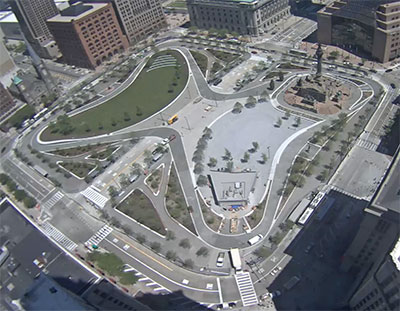 Live Public Square Renovation Updates brought to you by Tower City Center
Work has begun to transform Public Square to turn the 10-acre civic space a green, beautiful and pedestrian friendly venue for residents, transit users, visitors, picnickers, concertgoers, shoppers, and viewers of movies on summer nights.
Designed by the leading American landscape architect, James Corner, the project will divide the square into two rectangles, with an "event lawn" on the north, and a cafe, speaker's terrace, splash zone to the south, along with fresh landscaping around the 1894 Soldiers and Sailors Monument. A butterfly-shaped perimeter pathway will tie both halves of the square together, creating a loop trail for walking the square.
You can watch progress via Tower City Center's website throughout the 15-month renovation which is scheduled for completion in time for the Republican National Convention in 2016 .